Battojutsu with a friend/frenemy/rival/bot/pet/others
---
Hi folks!
Thanks for playing Battojutsu. This is a small game inspired by Samurai Kirby, trying to convey the feeling of tension of that "I did it?" feeling.
I revised and made some tweaks to improve the game, mainly the local 2 players mode! Instead of dueling with AIs, you can now challenge anything that can press a button fast. Call someone and give it a try!
Also made some changes to the overall experience that I couldn't add on v1.0, like the fault state (penalties for pressing the attack button before the signal) and tie state (it's possible to both players/AI attack at the same time, so clashing swords is more interesting than arbitrarily choose a winner).
For single player, there's a significant change too. Now the player starts with 3HP instead of 5HP. However, he will also gain 1HP for each two battles he wins, making possible to recover or expand the life bar for a total of 6HP. This is aiming on a future campaign mode I'm thinking about...
And also made available downloadables files for playing on Windows, Mac, Linux and PICO-8. Folks on PICO-8 can also open the code and make their own tweaks. Share with me what you create!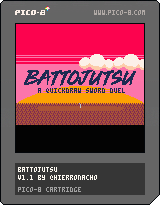 Thanks for your support!
Changelog:
v1.1:
Local 2 Players mode added
Fault State added: player loses a hit point if he presses the attack button before the signal
Tie State: is now possible that both players attack at the same frame. When this occur, no one loses life.
Initial life and HP recovery: Player's life been reduced from 5HP to 3HP on single player mode. However, player will gain 1HP for each two battles won, for a maximum of 6HP
Now running on 60FPS for faster input detection
General bugfixing and code optimization (or at least tried)
Files
Battojutsu v1.1 - Play in browser
Play in browser
Mar 01, 2018
Battojutsu v1.1 for Windows
836 kB
Mar 01, 2018
Battojutsu v1.1 for Mac
1 MB
Mar 01, 2018
Battojutsu v1.1 for Linux
481 kB
Mar 01, 2018
Battojutsu v1.1 PICO-8 Cart
12 kB
Mar 01, 2018